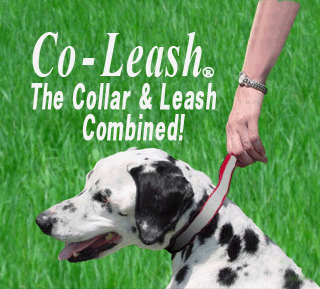 The Kryptaglow Co-leash glow in the dark dog collar is the best of all. It has 4 features in one product. It's a collar and leash, and, It features the ability to reflect car headlights, or any light and it GLOWS in the Dark too. What's even better? Its not an ELECTRIC COLLAR, that means it doesn't have a battery, so you can wash the coleash in the machine, and its safe for your dog to swim with at the beach, or even in the snow. Most products on the web that claim they glow use a battery to do it, – not coleash.
Keep Your Dog Safe With The Glow In The Dark Dog Collar
The Kryptaglow glow in the dark dog collar will charge over and over for years with normal light and is the best product for seeing your dog in the bed room or dark hallway at night so you don't trip on him, benefiting both of you.
Even the law states your dog should have a leash at all times, How can we do that? That's the reasoning that inspired the Coleash. Also with 2 dogs at once it makes it much easier to control them both when the are wearing their leashes already with their collars.
The Co-Leash is also great for elderly dogs who need a little guidance now and then to get around obstacles. The neatly tucked leash makes it easy grab its handle and guide you pet through any situation or weather conditions and increases your pets safety at the same time.
Even The US Armed Forces Use The Glow In The Dark Dog Collar
The coleash has been selected for use by the armed forces for their K-9's. The Krytaglow BODY HARNESS features the same smart design found in all Co-Leash products and has been used by SEARCH AND RESCUE Dogs across the nation in conjunction with the Co-leash. Can't get better than that!
Also Available For Cats
We make GLOWING CAT COLLARS TOO. They feature Breakaway Safety Buckles for safety as well. Our number one concern.
Co-Leash: Leaders In Pet Safety & Innovation
Try our products today and see why Co-Leash company leads the industry in innovative products for your pets. Were sure the co-leash and coleash products will make your life with your pet a little easier and your pet a little safer. Well save you money by incorporating more than one function in every product and they last a long time too.